Thanks for the Tip!
here's our Tip Jar to keep the projects going!
Enter the amount you wish to donate
Welcome!  This is the place for Dan King and Friends and KBMG (Dan King, David Brown, Dave Mattacks, and Wolf Ginandes), and our Gloucester 400+ Music projects. 
Latest Release Ocean and Rose now available on all major streaming services!
 New Jazz and Blues 400+ project in the works.  Visit the Gloucester 400+ page to check out the completed  Folk Volume One.  
Songs for Ukraine will continue in March on Thursday Evenings!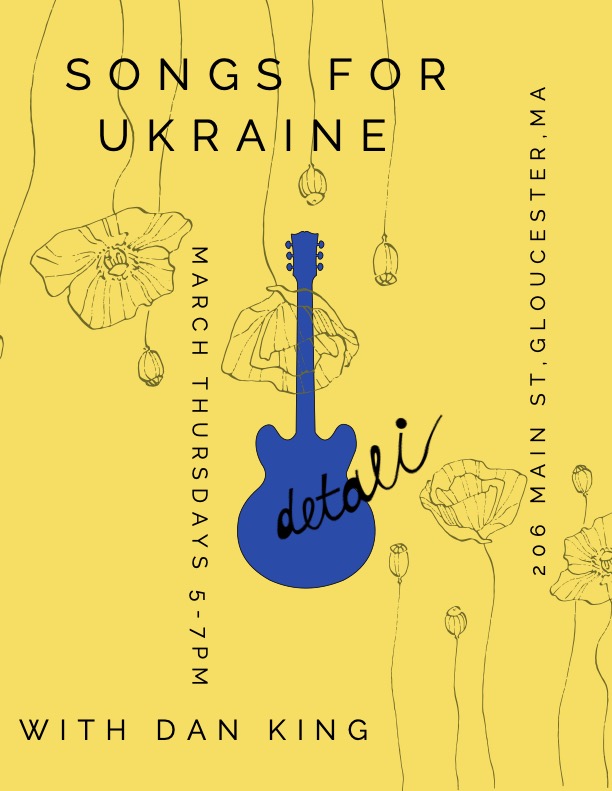 Poster by Natalia of Detali
New weekly Wednesday Night Residency at The Rhumb Line
 Coming this Spring 2023  our Residency at The Studio Rocky Neck Gloucester on  Tuesdays  with David Brown is back!  Check out  Live
and lastly best Wishes to Dave Mattacks on his Fairport Convention and Feast of Fiddles Tours of the UK!  We'll be back with Dave at Rockport Music Shalin Liu Performance Center in April.  
Wishing you all the best, 
Dan King and Friends